The Creators Of 100K Factory – Aidan Booth And Steve Clayton
Have you been dreaming about making huge passive income with your online business? If you haven't been taking enough action, then your dream will remain just that—a dream. The good news is that it isn't the end of the world for you. With the right internet marketing program, you can certainly inch closer toward your goal and make more money than you ever thought you would. But given the sheer volume of online courses that all promise to bring you internet marketing riches, how can you select what to use?
Knowledge Business Blueprint Review
100K Factory proves to be an excellent starting point. This program revolves around the idea of drop shipping products directly to consumers and making a commission on every sale. You don't even have to deal with inventory. The products go from China to the buyers. Yes, it's that simple!
If you haven't heard of 100K Factory before, then you might be a little skeptical about the program. This is completely natural. But for starters, two versions have been released so far. This is a testament to how great the product truly is. And the most exciting news is that a third iteration is coming up in February 2017 called 100K Factory Revolution. But before signing up, you may want to know a few things about the brains behind the program: Aidan Booth and Steve Clayton.
Who Is Aidan Booth?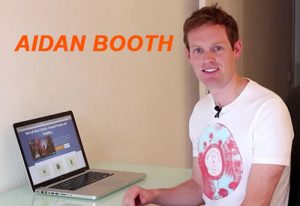 Do you want to follow a veteran in the affiliate marketing game? Then Aidan Booth is your man. His first venture in online marketing started 13 years ago, and it truly is an interesting story. Aidan grew up in New Zealand. In 2003, he met his wife, Carolina, in Lake Tahoe. She lived in Argentina, so Aidan decided to go there shortly after they met.
Since Aidan didn't have a clue how to speak Spanish and only held a tourist visa, it was impossible for him to land any job from any company. This prompted him to look for online work. Little did he know that this would change his entire perspective about making money as it opened up a lot of opportunities for him.
First Site Creation
In 2005, Aidan set up his first website. Although he didn't know anything about creating fancy websites, he chose to do it anyway. While the income generated by his first site wasn't anything to write home about, Aidan fondly recalled that it was enough to let him eat meals in some of the best steakhouses in Buenos Aires.
Just a year later, Aidan learned the ropes of the internet marketing world. Equipped with more knowledge, he began creating multiple affiliate websites. His traffic generation method of choice was paid search. The sales were pretty good, and he would get $30-commissions every now and then which he explained were like gold.
After finding success in affiliate marketing, he went on to create more eCommerce sites. He also began leveraging organic traffic through the use of search engine optimization. Aidan also looked into other paid traffic sources to drive more targeted customers to his niche websites.
A Numbers Guy
With a degree in Manufacturing & Industrial Engineering, it isn't surprising to hear that Aidan is a numbers guy. And when he stumbled upon Google Analytics, he found unparalleled joy. This program enabled Aidan to observe what exactly was going on in his websites. The weak spots were identified and the most effective parts optimized even further.
Test after test began in order to take things to a whole new level. Aidan wanted to learn how to maximize his returns, and with analytics, this goal was within arm's reach.
True enough, his eCommerce and affiliate websites raked in more money than ever before.
The Factory
Aidan was living the time of his life. His online business was doing so well that he hired a team of Filipinos to crank out websites for him. The team consisted of writers, designers and website builders. There was even a Project Manager to oversee everything for him.
After a few months, Aidan found himself the owner of more than 1,500 websites. Not all of these websites generated money, but those that did were doing it at an incredible rate.
It was also during this time that Aidan started to team up with Brian Johnson, his mentor and long-time friend. They released a training course that shared exactly what they did to get to where they were.
The Collapse
Just when he thought things weren't going anywhere but up, a third of his website portfolio got slapped by the "May Day" Google algorithm in May 2010. The affected websites were wiped out from the search index. Aidan's bottom line was severely hit. This prompted the collapse of "The Factory." But Aidan wasn't going to allow a single algorithm ruin his online business.
The Google penalties he endured in 2010 only served as a learning experience. He knew that it was time for a change. Aidan began setting up websites that would stand the test of time—as well as Google manual penalties.
Diversification was very important, so he shifted his focus to building more profitable eCommerce websites. Sure enough, these properties would sometimes perform better than his older affiliate sites.
3 Pillars
Aidan learned a boatload of things in his internet marketing career. Perhaps chief of which is diversifying his online portfolio. During the first few years in his career, his online business consisted entirely of niche websites and eCommerce stores. After teaming up with some of the best internet marketing minds today including Tim Godfrey and Steve Clayton, Aidan discovered he had to get out of his comfort zone.
Today, Aidan and his team recognize three distinct pillars, each of which contributes immensely to their online business:
Pillar #1 is niche websites and eCommerce stores.
Pillar #2 is online marketing training and coaching services.
Pillar #3 is small business marketing.
These three pillars function as if they are separate businesses. They are treated with equal importance as they all play an important role in boosting the company's bottom line.
Aidan's business now consists of 25 employees. He once did everything by himself, but today, he outsources individual tasks to speed things up. This hands-on experience also enables Aidan to find the right people for the job in order to ensure a smooth operation.
Who Is Steve Clayton?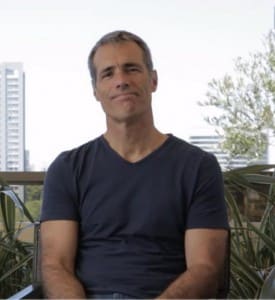 Many people who try to enter the world of internet marketing end up failing. Others may find a decent amount of success, but not before putting a boatload of time and effort.
Steve Clayton belongs to a very small group of individuals who were able to hit the ground up and running. He was a former Vice President of a Fortune 500 company, so that surely works to his advantage. But background has little to do with online marketing success. It has more to do with drive, which Steve certainly has.
During his first few years in internet marketing, Steve was heralded as the King of Clickbank. He sold numerous digital products, the most notable of which is the Commission Blueprint series. With three successful versions, Commission Blueprint reigned as the most successful Clickbank product for many years. It isn't difficult to imagine how Steve was able to rake in an enormous amount of money with such amazing products.
Commission Blueprint
The first version of Commission Blueprint was a guide for beginners who want to get their feet wet in affiliate marketing and PPC. What made the product so successful was Steve's ability to explain complex information into layman's terms. Even complete newbies can understand how to go about the sometimes confusing realm of selling affiliate products with the help of Steve. And despite PPC having a bad rap within the online community, Steve managed to explain to users how it could be the perfect traffic source that would rake in huge rewards over the long term.
Commission Blueprint 2.0 took things up a notch. Here, Steve ventured into the world of search engine optimization. Internet marketers from different online communities all raved about SEO, and everybody seemed interested in joining the bandwagon. Steve continued to help beginners set up affiliate websites and drive traffic by improving organic rankings. On-page and off-page SEO were discussed in the course, enabling beginner webmasters to understand how search engines work.
The last iteration, Commission Blueprint Black Edition, was Steve's attempt to help absolutely anyone interested to make money online reach their goal in the least amount of time. It's specifically designed to be a step-by-step guide that walks users through the process of creating an eCommerce website, filling it with amazing content and driving traffic to boost conversions.
Profitable Partnerships
Steve Clayton also teamed up with some of the best in the industry including Tim Godfrey. Together, the duo has done very well, managing to set up a 7-figure online marketing empire in just 8 months.
This just goes to show how good Steve is when it comes to working with other people. This may be due in large part to his experience in helping small business owners establish their online presence. In fact, Steve's first venture in internet marketing was offering consulting services.
What's great about Steve is that he has the uncanny ability to work seamless with other people while picking up things on his own and generating a huge passive income stream for himself. Users can even find the outline used by Steve and Tim in setting up their consulting business.
Steve has also partnered with Aidan Booth to create the 100K Factory. The first two versions were immensely successful. In true Steve Clayton fashion, these programs present a very simple approach to affiliate marketing. The traditional methodical philosophy is applied, and the same can be expected for the third version, 100K Factory Revolution.
Another admirable trait Steve has is humility. Despite reaching star status in the online marketing world, he continues to respond to people's questions as much as he can. He's particularly active in his forum, answering all sorts of questions from aspiring internet marketers.
Nobody can deny that Steve Clayton is an outstanding teacher. He's an excellent choice as a mentor, as he can explain the most complicated processes in an easy-to-digest manner.
What Is The 100K Factory Revolution?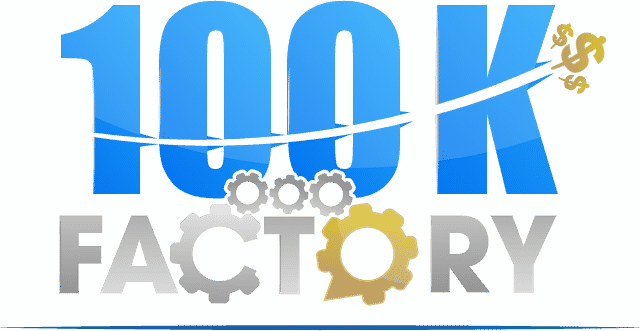 Now that you are acquainted with the creators of the 100KFactory.com/go Revolution, you must feel more confident in using the product. But what exactly can you get from it?
100K Factory Revolution builds upon the first two releases. Aidan Booth and Steve Clayton aim to take both beginners and veterans to affiliate marketing success. No, you won't be fed regurgitated information that can already be found on the previous versions. 100K Factory Revolution takes everything to new heights as Aidan and Steve provide an over-the-shoulder approach to increase your chances of reaching your online business goals.
If you've always been interested in selling physical products but don't know how and where to begin, then this program is the perfection solution for you. It guides you through every step of the process—from choosing what products to sell, finding suppliers, driving laser targeted traffic and drop shipping the items.
With 100K Factory, the guesswork is completely eliminated. You just have to follow the exact steps laid out by Aidan and Steve. By leveraging their "secret sauce," you can finally generate a passive income stream with your online business. This may prove to be just what you need to leave your dreaded 9 to 5 job.
The program is slated for release on February 28, 2017. While the fine details have yet to be revealed, everybody can expect to discover gems from Aidan Booth and Steve Clayton. The previous iterations of 100K Factory paid millions of dollars to affiliates. The same can be expected with this upcoming release.
This is a product you surely don't want to miss out on. Created by two of the most brilliant minds in online marketing, 100k Factory Revolution can turn your dream into reality. Mark your calendars for the much anticipated launch.